There will be plenty of events for friends and family to participate in during the weekend of August 17th through the 19th. This page includes a description of a few of these events.
Animal House Night with the Eugene Emeralds at PK Park in Eugene, Oregon. Join the Eugene Emeralds Baseball Team as they battle the Boise Hawks and celebrate the 40th Anniversary of the release of Animal House. Appearances by Otis Day and the Cry! and the Death Mobile.
Toga Run. This event will be like no other fun run that you have ever seen. More information on this event will be coming soon for participation and viewing.
SATURDAY AUGUST 18TH
12:00pm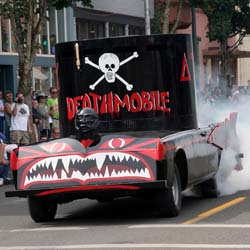 Downtown Parade. A Toga Parade celebrating the 40th Anniversary of the release of Animal House and Cottage Grove's participation in the movie will wind down Main Street in Historic Cottage Grove. Cottage Grove's Main street was the scene of the Homecoming Parade in the movie and we anticipate many Animal House and Toga related entrants. Cottage Grove's Death Mobile will be a highlight of the parade.
Download parade application here.
Saturday august 18th
Gates open: 2:00pm
Event starts: 5:00pm
Toga Party Scene Courtesy of:
Universal Studios Licensing LLC
World's Largest Toga Party. The community of Cottage Grove will attempt to win back the Guinness World record for the largest toga party which it originally won in 2003. This party will include a reunion of the headliners from the 2003 event plus others. The current band lineup for this party includes:
The Kingsmen. The northwest band of Louie Louie fame. You couldn't pick a better band for a Toga Party! Toga! Toga! Toga! Come dance and sign along to Louie Louie!
Otis Day, and The Cry! Otis Day is known for his performances in the Animal House movie. He is supported by the Cry! from Portland. Come Shout! with Otis.
John Swan and the Revelators. A Eugene blues and dance band. You may have seen them at Mac's nightclub or rocking at a Duck's Football game. This local band will get you on your feet and moving.
Other surprise guests.
There will also be various food cart vendors and a beer and wine garden. If you are an interested vendor, download the vendor rules and application. Buy your tickets now! Early bird and group/children discounts available.
Note: Guinness World Record Rules require white Togas to be worn in order to be counted towards the World Record. Accessories to make your toga unique are allowed.
Friday august 17th - sunday august 19th
Various Times
Inaugural Bohemian Film Festival. In conjunction with the World's Largest Toga Party celebration, the Bohemian Festival will be launching a film festival which will include viewings of Animal House and the Animal House of Blues documentary as part of the Festival's offerings.
Enjoy the very best independent films. Over 150 films have been submitted from across the U.S. and over 25 countries. The films screened at the Festival will be in seven categories: Adventure-Drama-Mystery, Animation, Documentary, Narrative, Pacific Northwest, Sci-Fi, and Spirituality. If you enjoy movies, this Film Festival is for you. Films are chosen by a jury of everyday people just like you who love a good story - not highbrow film critics. Watch a film and then listen to the filmmaker talk about it.
Click on the button below to learn more about the Bohemian Film Festival.